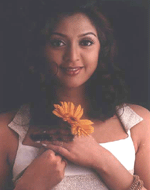 Gayatri Jayaram
Full Of Promise!
(Source : www.wowhyderabad.com )

Meet the beautiful girl with lots of confidence, from modelling world to the world of filmdom. Gayatri is an exception to the rule of industry as she chose to accept an art film as a stepping stone and not just itcy-bitcy one song, two scene role. Here is she talking about her debut & life-style.
Which is the movie you are shooting for? Is this debut movie?
I have done three movies, each one in different language. My first movie was 'Neela', it was directed by Mr. Nagabharana in Kanada. It was non-commercial movie, more of the art-film. My second movie was in Tamil with Prabhu Deva.

How Did you take up movies as your career?
I was into modelling since 1997 I was really happy modelling, then I did Miss India contest 2000 with Lara Datta and others, came fourth. After that I moved to Mumbai, there I did modelling seriously for 1 1/2 years. I got the movie offer from the director, who had won five national awards. It was an art film. It was very challenging, as my director had won awards, so it was lot of weight on my shoulders that he has to win this time as well. I took up as a challenge and not stopped yet taking more challenges.
Do you think, an art film is the right stepping stone to enter filmdom, as heroines are required to be glamdolls?
I don't know, whether it was a right stepping stone but working for the movie taught me a lot. I don't what would have happened, if I didn't take up a movie. There is no hero in the movie, the entire story is based on one character, that's me. I got to learnt different emotions of one character.
Telugu is a new language, what is your experience working here? Have you picked up the language?
(Laughs) 'Naku Telugu Radu'. It is a new language for me, but my assistant director, sits with me and explains the scene. I mug up and understand what I am suppose to do, so that I can deliver the right emotions.
What is your role in the movie?
Well, it is untitled movie and my co-star is Srikanth. It is a remake of a Malayalam film called 'Ee Parakum Talixa' I, actually can't tell you a lot about my role, if I said one thing 'you will miss the fun. It is based on a comedy tracks.
What preparation goes for the role?
Luckily, I have something to fall back. I saw the movie, so I have very clear idea as what I am supposed to do based on that, I have done, what my director expected me to do.
As a newcomer, how much 'say' you have in costume department?
I think, now I have lot to say, but for my Kanada movie, I had no choice, as I was playing an 'Adivasi girl' so I had to wear the costumes whatever I they given to me, whether I liked it or not. In this movie most of my clothes are cotton.
Who do you think is the best dressed female in film Industry?
Karishma Kapoor.
Have you done any Hindi movies?
Yes, I have done a song in 'Asoka' 'Raat Ka Nasha' I am a south Indian so I am more comfortable working in south movies. I has wonderful experience working with Mr. Santosh Sivan. We were shooting in Jabalpur I or walks or raft, dancing, it was very scary because if I fell off the raft it was 300 feet below and somebody told me there were crocodiles in the water. It was 52 & we were with minimum clothes. Very high temperature & stuttering heat.
Who do you think is the best dressed man in the film Industry?
Shahrukh Khan and Akshay Kumar.