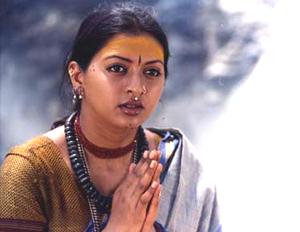 Neela (Kannada film)
A good effort

(Source : www.screenindia.com)

One of the four films that were selected for the Indian Panorama section of the recently cancelled 32 International Film Festival of India is long felt respite for the Kannada audience. Director of national and international repute, T.S.Nagabharana has combined the dreaded disease like cancer and the still prevailing atrocities on innocent people in rural India and effectively mixed with lovely tunes and eye-catching cinematography. The only lacuna in the film is editing. The narration style also could have been simplified.

Singer Neela (Gayathri Jayaram) faces a shock of her life when she discovers that her voice box is afflicted with cancer. A professor and his assistant Karthik who come to the village give a helping hand and Neela, with proper care and attention, comes out from the shock and her voice box also is safe. With allopathic medicine, on the one side, the director also attaches importance to the ancient therapy with Vishwajja (played by Anant Nag) on the other side. By the time Neela is hale and hearty, atrocity of Jagadekaraya reaches the peak in her village. It is only Neela who can save the skin of Jagadekaraya when the government officials comes to survey the huge property belonging to Jagadekaraya as she can enlighten the ancestral growth that can stand as a proof for him. Neela, instead of saving the prestige of Jagadekaraya, explains the truth to the Government official who has come to survey the facts. The dejected Jagadekaraya loses his mental balance and in a fit of anger, crucifies himself.

Newfind Gayathri Jayaram has bountiful opportunities ahead. Her matured performance gives an impression of her being an experienced actress.Another newcomer Mayoori and Shivadwaj support well but they have limited scope. Anant Nag has given a terrific performance in a role which only he can do justice to. Enagi Nataraj has acted like he is working for a television serial. Naveen Mayoor has an improvised role and he shows promise.

This is a musical entertainer. Vijayabhasker brings back memories of the 70s with his music. Eminent cameraman G.S. Bhasker has been exceptionally good in his work. The top angle shots and that of the forts, falls and greenery gives a pleasant viewing.

Not very often is a film of this quality made.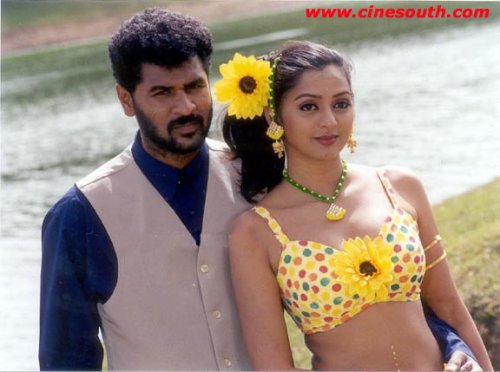 Manadhai Thirudi Vittai (Tamil film)

(Source : www.hinduonnet.com)



THE LANKY lad is here again with a new heroine, a new director a new storyline and also a performance that has hitherto not been seen from him, in KRG Movies International's "Manadhai Thirudi Vittai".

Prabhu Deva (Deva) is a music college student who falls head-over-heels in love with Sruti (Gayatri Jayaram), his junior. But the obstacles that arise before the relationship could culminate in marriage are examples of the ingenuity of the person at the helm - R.D. Narayanamurthy.

Armed with a suspenseful story and a cohesive screenplay, this young director has come out with a fare that is reasonably appealing. The witty dialogue by Prasannakumar is another positive part of the proceedings.

Just as you are about to dismiss it as yet another of those dime-a-dozen love intrigues, comes the turning point.

Gayathri Jayaram is cheerful, lissom, and lively but has nothing much to do by way of acting. It is Kausalya who has a solid role to play and she acquits herself creditably. Experience definitely makes a difference.

Gayathri would do well to improve her dancing skills. Otherwise she is a newcomer who shows promise.

Sriman and Ranjith have effective cameos. While Sriman's agony on seeing his sister's (Kausalya) plight borders on melodrama, Ranjith is just right as the friend of Prabhu Deva. Sriman is shaping into an artiste with potential on the big screen too.

Yuvan Shankar Raja's lilting, soothing and soft title music offers a warm welcome to the viewer.

The one-scene appearance of P.Susheela as a playback singer who visits Kausalya's household to brighten her spirits, is another interesting aspect of the film.

Vadivelu's crudeness and Vivek's shrewdness are other prominent features of ``Manadhai Thirudi Vittai". Vivek's subterfuge and the clever way in which he wriggles out of it add to the lighter moments.

Prabhu Deva has clearly proved that there's more to him than mere dancing gimmicks.

Raghunatha Reddy's camera caresses the exquisite locales of Coonoor and Ooty - sights you never get tired watching.

Director Narayanamurthy's hard work is evident in every frame.


Asoka

(Source : www.bbc.co.uk )


Director: Santosh Sivan
Producer(s): Shah Rukh Khan; Juhi Chawla
Cast: Shah Rukh Khan, Kareena Kapoor, Danny Denzongpa, Ajit, Rahul Dev, Hrishita Bhatt, Umesh Mehra, Gerson Da Cuhna, Subhashini, Suraj Balaje, Johnny Lever, Raghuvir Yadav, Suresh Menon, Rani Rajlaxmi, Gayatri Jayaraman, Shilpa R. Mehta, Shweta Menon and more
Language: In Hindi with English subtitles
Length: 176 minutes
Release: 26th October 2001


"Whose destiny is greater than that of the emperor?"
In self-imposed exile from the kingdom of Magadha, Prince Asoka is intrigued by an old man who informs him even Emperors are 'ordinary' and that his destiny transcends the crown and the throne.

2500 years after his death, Asoka the Great lives on in our memories. He towers over history as a symbol of peace and non-violence: a burning torch that illuminates the path from war to remorse, from ambition to religion, from hatred to love.

The film Asoka traces the life of the Emperor Asoka, grandson of Chandragupta Maurya, who ascended the throne of Magadha in the 3rd century B.C.

To extend the boundaries of his empire, Asoka waged one of the bloodiest wars in history with the neighbouring kingdom of Kalinga, leaving it ravaged and devastated.

Confronted by the aftermath of his conquest, in which thousands lost their lives, Asoka is overcome by remorse. He renounces the path of war and dedicates his life to spreading the light of Buddhism across the world.

Asoka is a journey: the transformation of a youth from a beloved son to an obsessive romantic. From a man embittered by betrayals to a ruthless warrior consumed by ambition. From a conqueror of lands to a conqueror of self.

The ultimate kingdom of Asoka was the hearts of men. Whose destiny is greater than that of the Emperor? "The traveller'swhen he completes his journey."



Aaduthu Paaduthu (Telugu film)

Genre: Love
Banner: CV Arts
Cast: Srikanth, Sunil, Gayatri, Raj, Brahmanandam, Bharani, M.S. Narayana, Dharmavarapu Subramanyam, Gautham Raju, Aditya, Naveen, Sathibabu and Sana
Art: Chinni
Photography: Shankar
Music: Chakri
Fights: Horman Babu
Editing: Kola Bhaskar
Dialogues: Chintapalli Ramana
Screenplay - Direction: Devi Prasad
Producer: CV Reddy
Theatrical Release Date: February

Preview
About the film

The two friends have nothing to fall back upon, except a rickety old bus inherited by one of them. Yet, they dream of making it big one they dream of making it big one day, and in their attempts to achieve this, they face many intriguing situations, which ultimately end in humor. This is the theme of C.V. Arts' "Aaduthu-Paaduthu", a remake of the Malayalam hit, "Ee Parakkum Thalika".

Srikanth and Sunil play the friends, and Devi Prasad directs the movie for producer C.V. Reddy. For Gayathri, it is her debut in Telugu films.

Says the director, "Srikanth inherits the bus from his father, who is a dramatist. He and his friend Sunil live in the bus and make a living out of it. They want to come up the hard way. At this juncture, a girl (Gayathri) enters their lives. At first, though the hero ignores, her, he rescues her from her kidnappers. And then, love blossoms between the two. "Our movie is different from the present trend of love stories. Ours is more of a comedy with sentiment and action. You can find the navarasas in it, and that makes the film a wholesome entertainer," says Devi Prasad.

Srikanth was the lead man in maximum number of films last year, six to be precise. But none of them earned him any kudos at the box office. He hopes to revive his fortunes this year.

"I am playing the role of an unemployed youth with a goal to achieve something big in life, a well-written role with all the bhavas - comedy, action and sentiment, besides a bit of dancing around. My role, along with that of Sunil, projects us as fun-loving youth. We are all working hard to make it a big success, like its Malayalam version". Sunil feels he has got an opportunity to prove his worth as an actor with such a character. "It is quite different from the roles I have played earlier".

Producer C.V. Reddy has a penchant for clean and wholesome entertainer, and has won a couple of Nandi awards earlier. "In spite of their problems, the two friends in the movie appear to be fun-loving. Hence the title, 'Aaduthu-Paaduthu'. We have shot major portions of film in the bus, specially designed and made by the artisans at Ramoji Film City. After the picturization of two songs, the rest of the talkie portions and post-production work, we plan to release the movie in February. Meanwhile, we will be releasing the audio cassettes, which has a pleasant score by Chakri, by January".

Music Director Raj makes a special appearance as a politician and the father of the heroine. His first love is his profession and position, and his family comes next. Brahmanandam, Bharani, M.S. Narayana, Dharmavarapu Subramanyam, Gautham Raju, Aditya, Naveen, Sathibabu and Sana are also in the cast.

Dialogue is by Chintapalli Ramana, camera by Shankar, fights by 'Horseman' Babu, art by Chinna, and editing by Kola Bhasker.