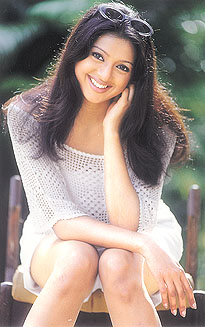 Gayatri Jayaraman answer's a reader's question
(Source : Cinema Express Tamil magazine, 01-15 July, 2002)
Question :- Ms.Gayatri Jayaraman, where do you hail from? Why haven't you got offers after 'Manathai Thirudi Vittai (Tamil film)'? what are you doing at present? Please reply in detail....
M. Prakasam, Chennai-14
Reply :- I hail from Kumbakonam in Tamilnadu.Then a Mumbaite.. I came to Chennai. My father Mr.Jayaraman is an Auditor.I got my education at Adarsh Vidyalaya and Churchpark...ever since, I have been interested in the arts....
My first modelling assignment was for Nailli Silks, followed by Kumaran Silks, Pothys and Chennai Silks...
I participated in the Beauty Peagents and won the tilte 'Miss Tamilnadu' in October, 1997 and 'Miss South India' in 1998...thereafter I got many modelling and advertisement films offers...
After that, I worked in the serial 'Azhukku veshti' by Kavithalaya...and I also performed the role of an adivasi girl in the Kannada film 'Neela' by T S Naghabharana...During that time, I got the offer of performing with Prabhu Deva in KRG's 'Manathai Thirudi Vittai'...
'Ee Parakkum Thalika', a succesful Malayalam film is being made in Telugu...I am doing the film in which I am paired with Srikanth...
I know horse-riding and swimming...I am pursuing my B SC degree through correspondence....
I had got many fan mails applauding my performance in 'Manathai Thirudi Vittai'...After the release of 'Sri' (Tamil film), I beleive I'd get more popular and many opportunities....

An interview with Gayatri Jayaraman
Q : Aren't the fans ready to build a shrine for you yet?
A : I do get many telephone calls and many of my fans come and convey their wishes in person...In Madurai and Trichy, there are fan clubs for a long time...Even during the days I was compering programmes on TV, I had a fan following, did you know that?
Q : What is the secret of your maintaining your body in good shape?
A : I don't have any secret to reveal...As a matter of fact, I am fond of eating..and I do love delicious food...but then, I draw a line...and I'd cite two reasons for my slim body...one, its God's gift, and the other, I keep myself active always...
Q : Are you undergoing any special training in acting?
A : I have always been quick in grasping things...I do whatever is expected of me by the Director after watching him do....and I get my first take okayed often...
Q : There's news that your contentrating more on glamour roles than those which offer scope for acting?
A : Beauty and Glamour are things to be relished...Does Glamour have a definition of its own? In modern dresses, not only the young girls, the older ones too appear glamorous...Whatever the scene requires, be it acting or dress...this should be looked at in the right perspective...isn't that right?????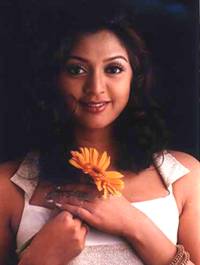 Interview with Gayatri Jayaraman
Q : Has your dream been realized?
A : Certainly not. I wanted to be a Doctor. I joined a course in Physiotherapy. But after the modelling assginments and participation in Beauty Peagents, I have now settled in films....
Q : You have your dad's name as your last name...are you very close to your dad ?
A : Yes, I am. But then, I am also much fond of my mom.
Q : Did your co-star Prabhu Deva cooperate with you during the making of 'Manathai Thirudi Vittai'?
A : I was during the dance sequences with Prabhu Deva He's quick in dancing, but as a dance masgter, he's quite patient in explaining the movements...he motivated me.
Q : Have you reached marriagable age of 21?
A : No...I am just old enough to vote!
Q : Narrate your experiences of your first film.
A : It was a good experience. In the film world, if you stick to your work, there wiouldn't be any controversies. I am true to myself. And I am true to my family. Thats the reason all of us in my family laugh over the gossips about me in the magazines!