Gayatri hopes to be a mantra on fans' lips!

(Source : www.msn.co.in)

It is inevitable.
If an actress fails to make it in one language, she tries her luck in another.

When the shapely Gayathri Jayaram's, a top five finisher in the Miss India pageant, first film in Tamil Manathai Thirudivittai did not do well at the box office, everybody knew she would test the waters elsewhere. It was only a question of whether it was Malayalam, Telugu, Kannada or, if she was lucky, Hindi.

As it happens, it is in Telugu.


Gayathri hs been cast as the heroine in the Telugu re-make of the Malayalam hit Ee Parakkum Thalika. She is paired opposite the struggling Srikanth.

She was hosting a popular TV show before she entered the film industry. "I think that was the stepping stone. It gave me the confidence to shape up before the camera," Gayathri points out.

But she did not come straight to films after TV. "I made it to the top five in the Miss India contest. Then again, the exposure there helped me a lot".


One does not know what exposure Gayathri meant, but plenty of it was seen in her first Tamil film. Cast opposite Prabhu Deva, Gayathri did a glamour doll role in that film. "I think you said the right word glamour. Glamour is not obscenity. What is wrong if you wear fetching clothes," she seethes.

Does it upset her that she is getting opportunities only against heroes who are fighting for survival? Parbhu Deva in Tamil, Srikanth in Telugu? "Frankly, I do not know. I think I should concentrate only on what I am getting in my roles. At any rate, there will be ups and down in a hero's career".

Gayathri is not unduly worried about the fiasco of her first movie. It has happened to many actresses. "I am not the first. Nor I am going to be the last," she says with confidence.

Her foray into Telugu was a major achievement . "Telugu industry is really big. To get an opportunity here is really good". She could have as well added that the film was a major success in Malayalam.

Luckily for Gayathri, the team for her Telugu film is good. Up and coming comedian Sunil is the side-kick of Srikanth in the film. Thanikella Bharani, Bramhanandam, Sathibabu, M.S.Narayana are also in the cast.

Music director Chakri, who has tuned the songs, also appears in a special role in the film. Direction is by Deviprasad and produced by C.V.Reddy.

"If I can get a good break in Tollywood, it will be great for my career," Gayathri says earnestly.

Anyway, even if she fails here, there is Malayalam or Kannada to welcome her.
(Source: India Syndicate)





Life Coimbatore
Tuesday, Feb 19, 2002


WALKING THE ramp comes easy to Gayatri Jayaram, and she's thrilled that her catwalk days have earned her a foothold in cinema. Gayatri was at "Contagion'', the cultural festival hosted by the School of Communication Studies of GRD College of Science.

``It's my first visit to Coimbatore as an actress, though I've been down here on lots of shoots... going up and down to Ooty. When I'm here, I usually go to Boomerang for an ice-cream, or Dominos for a pizza... I don't really know other places!''

Starting off with school culturals and fashion shows, Gayatri had been in several major fashion events: Miss South India 1998 and Miss India 2000, to name just two. Born in Mumbai, she'd adapted to Chennai, where she'd made two tele-films for "Balachandar Sir''.

``It's easier to work in a TV series than in a film,'' she said. "In tele-films there are no rules to follow, and you get to know your co-stars. In films, the conversation is mostly about the shot. For a career, a TV series is more stable... film is unpredictable.''

Her first Tamil film with Prabhu Deva, "Manathai Thirudivittai'', brought her to the attention of most cinema-goers. Still, she says that one of the most difficult characters she'd played was that of a tribal girl in a Kannada art film, "Neela'', now doing the rounds of film festivals.

``I was not myself at all in the film,'' she said, "for I played an adivasi girl in `therukoothu' style. It was shot in a village, and even the dialect was not proper Kannada. I had to think a lot about my character, and I couldn't even grow my nails, because an adivasi girl wouldn't do that.''

``I've played a tribal girl in Telugu film... and 90 percent of it was shot in a bus. I played the role of a spoilt minister's daughter who pretends to be a tribal,'' she added. Compared to these characters, doing roles in Tamil films had been a lot easier, for she had needed to be just herself most of the time.

She said she had a March release film in Telugu titled "Aaduthu Paaduthu''. Then there was "Shree'' opposite Surya. She wouldn't say much about the film except that there were two heroines... the other one being Srutika. Vijayakumar is the father and Surya is the son. "I play Surya's mistress.''

``Shree'' was supposed to be a Pongal release, but it had got delayed, and was likely to be out in May at the latest. "I play a fiery character. Everywhere I go, I keep shouting at people.''

In real life, she wasn't short-tempered like her character, of course. "I'm very simple. I can't stop talking... or smiling. When I'm irritated, I tell people twice. I will not tell them a third time, but after they hear what I have to say, they won't be able to face me again.''

On her future plans, she said: "I'm not here for 20 releases a year, only to burn out in two years. I want to take it very slowly and choose movies well. I'm looking for a film in Malayalam, the only South Indian language I haven't done.''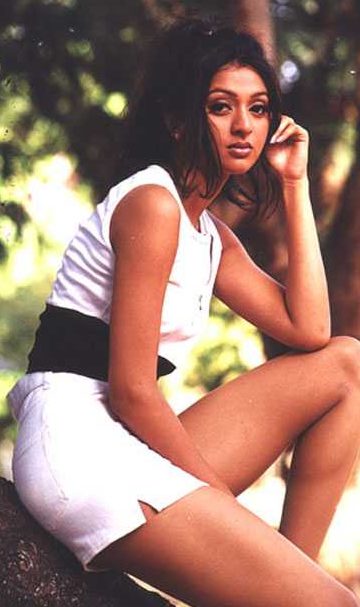 Neela
At mixing stage

(Source : www.screenindia.com)

Rarely subjects on dreadful ailments are focused in our films. Nationally acclaimed director T.S. Nagabharana has taken Cancer, one such disease, as the focal issue in a film made by producer Dr. Ajaikumar of United States of America. According to the director, Cancer is not a death warrant, it is as common a disease like blood pressure or sugar complaints. The fears in the mind of the people make this disease to acquire at dreadful dimension in our society. Cancer is curable, states TSN.

After completion of the shooting at places like Savadatti, Thallur, Ulavi, Shimsha and Mysore surroundings, the film is now at the mixing and background music stage.

Newfind Gayathri Jayaram, who appeared in the Thums Up advertisement, plays the central role of a singer. Hailing from Chennai and a student of Physiotherapy from S.R.M. College, Chennai, she had rejected a lot of offers in Tamil for the lack of substance and now she intends to get good roles like the ones in her debut Kannada film Neela.

Veteran music director Vijayabhasker has tuned the music. Bhasker is the man behind camera and Dinesh Mangalore is the art director of this film. Ananth Nag, Jayanthi, Sharathbabu, Mayoori, Enagi Nataraj, Naveen Mayoor, Shivadwaj ad theatre artists of Dharwad district are also in the cast.

The Neela girl
(Source : www.deccanherald.com)
Notwithstanding the fact that Kannada film Neela (directed by T S Nagabharana) was selected for the Indian Panorama section to be screened at the International Film Festival of India which was scheduled to be held in Bangalore, the film has not been quite successful at the box-office. But, the girl who played the title role of Neela in the film - Gayathri Jayaram - certainly knows her strengths and limitations as an upcoming actress.
Gayathri has now decided to rivet her focus on a full-time acting career after the kind of tick that Neela gave her as an actress. The Mumbai-based actress was in Bangalore with her family members last week to see Neela. Interestingly, Gayathri grew up in Shahabad near Gulbarga till she was four years old before her family headed to Madras. She spent a year in Bangalore when in her eighth standard and this helped her pick up Kannada. Gayathri is a physiotherapist by profession but now she has forayed into acting. Says she, I wanted to do medicine. But, I never ever knew that acting would become a career option. I know the average life of an actress on screen is maximum four years. I can always return to physiotherapy once my career as an actress is over. I may decide to set up a business of my own or work under an established doctor. It shouldnt be a problem.
Gayathri started her career as an actress with director K Balachanders teleserial Chinna Thirai, before she bagged Nagabharanas Neela. Gayathri has recently finished shooting for Tamil film Manathai Thirudivittai opposite Prabhu Deva which is likely to be released soon. She is playing the role of a college-going girl who fights for a cause. Gayathri says she has signed up for yet another Tamil film Shree opposite Surya which has a strong script that speaks about father-son relationship.
Gayathri believes that middle cinema or bridge films have more depth because she feels she wasnt herself while she was doing the role. She chose Neela to be her debut film for the same reason. When Nagabharana came to sign me on, I wasnt quite sure whether I could pull it off without any acting background. Before Neela happened I also never believed that I could be on celluloid. But, I wanted to see myself on the screen. I found myself funny. I should say that if I know something about acting, all the credit should go to Nagabharana because he moulded me and drew the best out of me.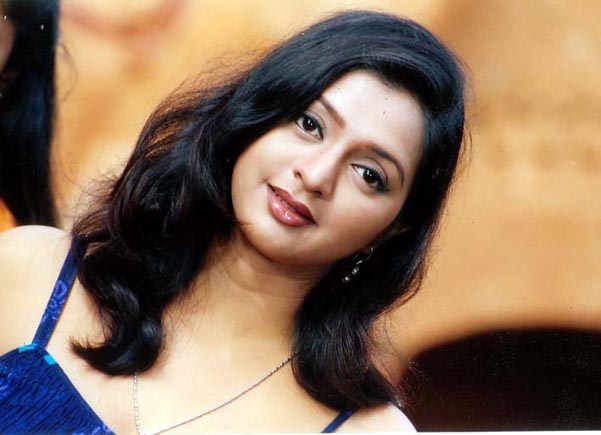 Nagabharana wants Panorama fest in Bangalore

(Source : www.deccanherald.com)

BANGALORE, Oct 5, 2001

Well-known Kannada film Director T S Nagabharana has personally appealed to the Directorate of Film Festivals Malathi Sahai to consider Bangalore ahead of other centres for exhibiting the 30 films selected in the Indian Panorama section for the forthcoming film festivals in Kolkata and Trivandrum.
The curtains are down for the International Film Festival of India, which was scheduled to open here from October 10. I have appealed to Ms Malathi Sahai to allow Bangalore to host the forthcoming Indian Panorama section ahead of other centres because the IFFI is not being organised this year, he told reporters here today.
He said he would urge the Karnataka Film Chamber of Commerce to take up the matter with the Centre about having a Panorama festival in Bangalore sometime in Novem-ber or December. Nagabhara-nas film Neela was one of the four Kannada film entries in the Indian Panorama section for the International Film Festival of India-2001, which was scheduled to be held in Bangalore from October 10.


Gayathri Jayaram, who played the lead role and the title role in Nagabharanas film Neela arrived on a days visit here to watch the film in Kalpana theatre along with her family members. On the films selection to the Indian Pano-rama section, Gayathri said, I feel happy to be part of the team. It means a lot to me because a film that involves a person like me gets this kind of honour and exposure which is commendable. Its like sitting on pins for me.
Gayathri left for Chennai later this evening.
Neela
A good effort
One of the four films that were selected for the Indian Panorama section of the recently cancelled 32 International Film Festival of India is long felt respite for the Kannada audience. Director of national and international repute, T.S.Nagabharana has combined the dreaded disease like cancer and the still prevailing atrocities on innocent people in rural India and effectively mixed with lovely tunes and eye-catching cinematography. The only lacuna in the film is editing. The narration style also could have been simplified.
Singer Neela (Gayathri Jayaram) faces a shock of her life when she discovers that her voice box is afflicted with cancer. A professor and his assistant Karthik who come to the village give a helping hand and Neela, with proper care and attention, comes out from the shock and her voice box also is safe. With allopathic medicine, on the one side, the director also attaches importance to the ancient therapy with Vishwajja (played by Anant Nag) on the other side. By the time Neela is hale and hearty, atrocity of Jagadekaraya reaches the peak in her village. It is only Neela who can save the skin of Jagadekaraya when the government officials comes to survey the huge property belonging to Jagadekaraya as she can enlighten the ancestral growth that can stand as a proof for him. Neela, instead of saving the prestige of Jagadekaraya, explains the truth to the Government official who has come to survey the facts. The dejected Jagadekaraya loses his mental balance and in a fit of anger, crucifies himself.
Newfind Gayathri Jayaram has bountiful opportunities ahead. Her matured performance gives an impression of her being an experienced actress.Another newcomer Mayoori and Shivadwaj support well but they have limited scope. Anant Nag has given a terrific performance in a role which only he can do justice to. Enagi Nataraj has acted like he is working for a television serial. Naveen Mayoor has an improvised role and he shows promise.
This is a musical entertainer. Vijayabhasker brings back memories of the 70s with his music. Eminent cameraman G.S. Bhasker has been exceptionally good in his work. The top angle shots and that of the forts, falls and greenery gives a pleasant viewing.
Not very often is a film of this quality made.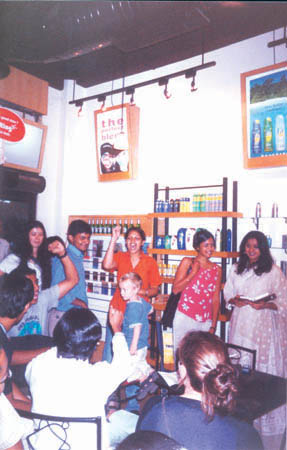 The New Qwiky's pub at Adyar, Chennai with Gayatri Jayaraman adding a little fa freshness to it.
April 07, 2002

Though Gayathri Jayaram won critical acclaim for her performance as the Neela girl in Nagabharanas film, it did not open doors for her in Kannada cinema.
When Gayathris (a top five finisher in the Miss India pageant) first film in Tamil Manathai Thirudivittai opposite Prabhu Deva did not do well at the box office, it was a foregone conclusion that she would test the waters elsewhere. It was only a question of whether it would be Malayalam, Telugu, or, if she was lucky, Hindi.
Now, Gayathri has been cast as the heroine in the Telugu remake of the Malayalam hit Ee Parakkum Thalika.
Gayathri was hosting a popular TV show before she entered the film industry. I think that was the stepping stone. It gave me the confidence to shape up before the camera, she says. But she did not come straight to films after TV. I made it to the top five in the Miss India contest. Then again, the exposure there helped me a lot. One does not know what exposure Gayathri meant, but plenty of it was seen in her first Tamil film. Gayathri did a glamour doll role in that film. According to her, Glamour is not obscenity. What is wrong if one wears fetching clothes? Gayathri is not unduly worried about the fiasco of her first movie. It has happened to many actresses. I am not the first. Nor I am going to be the last, she says with confidence.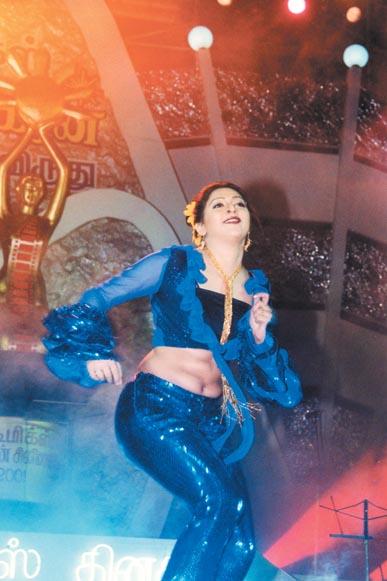 Gayatri Jayaraman on stage during the Dinakaran Awards presentation
From modelling to acting: A long haul for her
From modelling to compering shows on television to acting, it has been a mixed bag for Gayatri Jayaram, who is giving it her best to establish herself as an actress to be reckoned with in the Tamil film industry.
The debut film - Manathai Thirudivittai opposite Prabhu Deva, failed to make an impact at the box-office and it took her some time to get another lead role. About her maiden film the young actress says, 'I was actually pencilled to do the role finally played by Kausalya. Somehow, I was asked to switch roles.'
The Manjakattu maiyna song picturised on her and Prabhu Deva, helped her in getting recognised by the people.
It was nice to act with Prabhu Deva and it was really hard work as far as dance in the song (Manjakattu maina) was concerned. 'I just could not believe I danced so well in that film', she has to say.
However, after a promising start to her career, Gayatri had a rather tough time as her role in Sri, a film which also starred Surya and newcomer Sruthika, was chopped.
Starting off as a model who did several assignments when the family was based in Mumbai, things happened quickly for Gayatri when she was picked by producer KRG for Manathai Thirudivittai.
'I never thought I will become an actress', she admits candidly. 'It has always been a dream for me to become a doctor', she goes on to say but that has not been realised.
It was a nice experience to work in a Kannada film (an art movie), she recalls. Incidentally she won an award the Cinema Express award for her role in the film. She has fond memories of working in that film (Neela). 'The artistes were all so nice to me.'
Later, apart from compering shows on TV like Ilamai Puthumai on Sun TV and Telephone Manipol on Vijay TV, Gayatri says she had the opportunity to work in a couple of mini television serials produced by noted director K Balachander.
After her first film, she was slated to act in Charlie Chaplin (featuring Prabhu, Prabhu Deva and Abirami), but unfortunately as the project got delayed she had to opt out.
Interestingly, the heroine in that film Gayatri Raghuram (no relation to her) is always confused with her. 'There are some calls which leave me totally bewildered', she points out. Many people mistake me for her, says Gayatri Jayaram.
Presently, she is working in Vaseegara which has Vijay and Sneha also in the cast. She says her role in the film slated for release during the Pongal festival is good. However, she is pinning hopes on Nee Varum Padhaiyalam with a newcomer Vimal and Vindhya among others. 'I am waiting for the film to be released. My role is excellent and it should certainly be an indication of my acting skills.'
Asked if being cast in the role of second heroines (as in her case in some films) would push the spotlight away from her, she says that is not the case.
In fact, Gayatri acted as the second heroine in April Madathil, whose love is not accepted by the hero, Srikanth.
And, she refers to actress Sneha, who shot into prominence with some roles as the second heroine.
Having acted in a Telugu film (Aduthu paduthu, the version of Sundara Travels), she has a desire to act in Malayalam films as there would be more scope for histrionics.
The key thing, Gayatri says is that she should be remembered as a good actress. She goes on to point that all efforts are being made in that regard.
As far as glamour goes, the young actress is quick to point that she is not averse to it, but a limit has to be drawn. 'If I think it is crossing the levels of decency, I will say no', she says firmly.
Gayatri gives herself around five years to make a mark in the industry and says her father, a chartered accountant and mother had been very supportive.
A fun-loving girl, she enjoys going out with her friends and watching movies though she does not go to the theatres often.
Will the new year be a new beginning for the young starlet who is expecting her films to do well.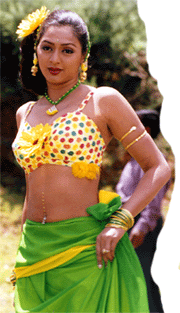 Regional - Tamil
Round-up
Not a bad year for films
(Source www.screenindia.com)
In all, 155 films were released in the year 2001, thereby creating a record of sorts in the south. But only 75 films were straight films and others were dubbed ventures. The Kamal Haasan-starrer Thenali and the Vijay starrer-Friends were the only two films that reached the silver jubilee mark while Ajiths Dheena completed a 125-day run shows the poor state of the film industry. While only nine films completed 100 days in 2000, last year had 15 films which reached the 100-day mark. Vijaykants Vanchinathan and Narsimha, Karthiks Ullam Kollu Poguthe, Vijays Badri, Madhvans Dum Dum Dum, T Rajinders Sonantha Kathala, Mammoottys Anandam, Ajiths Citizen and Poov Ellam Unn Vasam, Vikrams Dhill, Prasanths Chocklet and Sarath Kumars Samudaram were the films that touched the 100-day mark as per official records but many of these films were pulled in the theatres by the producers to keep up the star status and banner value is an undeniable fact.
With nine films released, Roja topped the list of actresses who acted in the maximum number of films and also had the distinction of having acted in 100 films. She is currently in the news for having come out with an interview criticising Kamal Haasan for the way in which his heroines are depicted on screen. With six films, Devyani came a close second and Jothika came third with five films out of which two were successful at the box-office. Simran, the numero uno of 2000, had only two releases and both were flops. Laila had four releases of which two were hits. Meena had three releases but she was the heroine in only one of them. While she only had a side role in one, in the other she appeared in a song sequence. Rambha had two releases and both were flops. Mumtaz, the sex bomb, came in six films and kept her slot intact.
Vivek was the most popular comedian with 21 films to his credit and Vadivelu came a close second with 19 films.
Directors Ramanarayanan and Sundar C directed three films each and topped the list. Sundar had a hit in Ullam Kollu Poguthe. K Balchander directed and released his 100th film starring Madhvan and Simran in the lead.
Amongst the new talents, Sham who made his debut with 12B is the most sought after hero in Tamil film industry because his first film has got him a lot of fans in the college-going crowd and is said to be a strong rival to Madhvan who managed to retain his slot with Minnale while his K Balchander film was a washout.
Among the debutante heroines, Rima Sen in Minnale, Gaytri Jayram in Manathe Thirudi Vittai, Anjala Zaveri in Ullam Kollu Poguthe, Bhoomika in Badri, Richa Pallot in Shahjahan and Sneha in Anandam were those who showed promise. Rinkie Khannas debut performance in Majnu was a disaster. Kavya Madhvan, the popular actress in Kerala, made her debut in Kaasi but did not create a ripple.
Besides this, a lot happened in the industry. Actor Sarath Kumar and comedian SS Chandran were nominated as Rajya Sabha MPs. Director Rajakumarans marriage with actress Devyani created a flutter in the film circles. Sarath Kumar and Radhika who were longtime friends turned husband and wife last year. Director Suresh married actress Meera, vamps Vichitra and Alphonsa too tied the nuptial knot. Comedian Vyapuri got married. Actress Nalini and Ramarajans divorce case caught the media attention. The passing away of veteran actor Sivaji Ganesan left a void in the film industry. The Union Government released a stamp in his memory and the State government gave him state honours at the funeral. The death of director Tirupathiswami in a car accident before his debut film Narasimha was released was the most tragic event. It led to the editors union to decide that they will not work for more than eight hours a day since the director was returning home in the early morning after working with the editor the whole night. The accidental fall of Sarika Kamal Haasan upset the industry while the attack on the unit of Samudaram in Karnataka angered the Tamil film industry. Actress Vindhya fled her house and accused her parents of forcing her to take up prostitution. Rajanikant, with no release last year, continued to be the point of speculation about his next film. He, however, ruled out his coming to politics while his friend Kamal Haasan hinted about his desire to join politics. Vijaykants hobnobbing with AIADMK supremo Jayalalitha set off reports that he had changed sides from DMK.
Unlike previous years, last year passed off without any strikes or major disputes. The film industry was, to a certain extent, to get support from all sections to enforce curbs on TV channels from showing new films clippings and telecasting interviews of artistes on festive days since it affected collections.